Back to What schools and further education settings can do
Anxiety thermometer
Using a feelings thermometer is a great tool to help children recognise what feelings they might be experiencing in any given moment.
This is an anxiety thermometer.
A useful strategy to help children deal with anxiety is for them to become aware of what level their anxiety is. If they can develop an understanding of their anxiety or worries, then this is the first step in learning strategies to manage or cope better. 
Anxiety can be triggered by different situations, and so using this tool can also help children recognise what situations make them feel more anxious or worried than others. 
Using this resource
This resource is designed for:
children aged 7 and up
use with individual children
Prior to using this resource with a child, please read through our pages on anxiety, and guidance for delivering short activities, to ensure you have a good understanding of how to use the resources safely.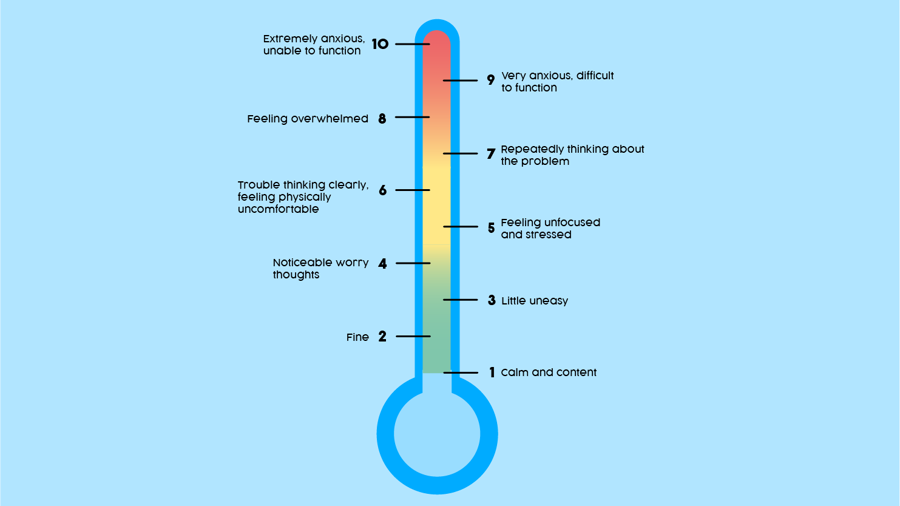 Curriculum links
England - RHSE

Mental Wellbeing

Pupils should know:

• that there is a normal range of emotions (e.g. happiness, sadness, anger, fear, surprise, nervousness) and scale of emotions that all humans experience in relation to different experiences and situations

Northern Ireland - Personal Development and Mutual Understanding

Personal Understanding and Health

Pupils should be enabled to explore:

• their own and others' feelings and emotions and how their actions affect others (KS1)

• their management of a range of feelings and emotions and the feelings and emotions of others (KS2)

Wales – Health and Wellbeing

Statement 2 - Supporting learners to develop strategies which help them to regulate their emotions can contribute towards good mental health and emotional well-being.

Scotland - Health and Wellbeing

Mental and Emotional Wellbeing

• I know that we all experience a variety of thoughts and emotions that affect how we feel and behave, and I am learning ways of managing them.
Back to What schools and further education settings can do