Helping children reframe negative thoughts
This simple activity will show children how to reframe their thinking around a negative situation, and look for positive ways to view the situation.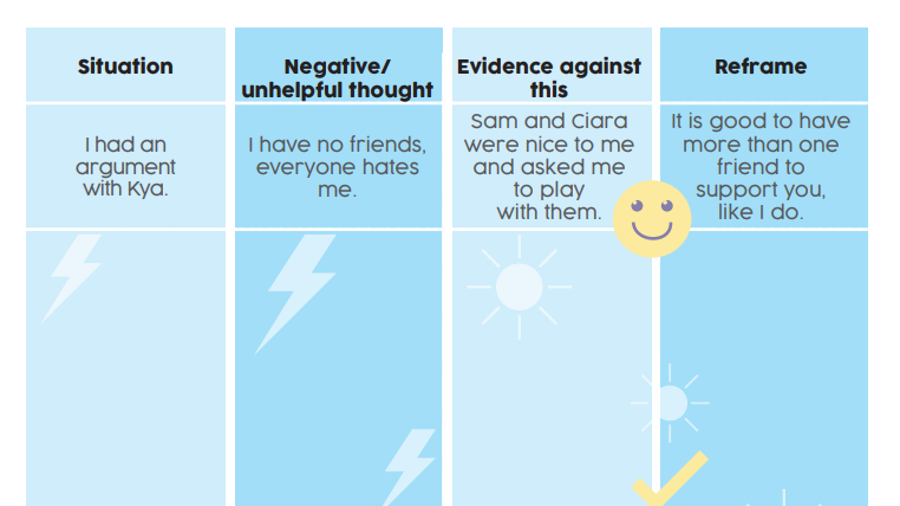 This resource is also available in Welsh.
We all have negative thoughts and may get into patterns of negative thinking.
In times of distress, these may occur more frequently, and it is easy to be self-critical and focus on the negative thoughts. Sometimes we might catastrophise a situation, making it seem worse than it really is, or we might blame ourselves for things out of our control.
This resource may be a useful tool for children to use once they have returned to school after the coronavirus lockdown.
Using this resource
This resource is designed for:
Children aged 4 to 11
Use with individual children
This resource forms part of our rebuild and recover set of resources, designed to help schools come back together and support their pupils' wellbeing after lockdown.
Curriculum links
England - RSHE

Pupils should know:

Mental wellbeing

• how to judge whether what they are feeling and how they are behaving is appropriate and proportionate

• simple self-care techniques, including the importance of rest, time spent with friends and family and the benefits of hobbies and interests

Northern Ireland - Personal Development and Mutual Understanding

PERSONAL UNDERSTANDING AND HEALTH

Pupils should be enabled to explore:

• their own and others' feelings and emotions; (Foundation)

• positive attitudes to learning and achievement; (KS1)

• strategies and skills for keeping themselves healthy and safe. (KS1)

• their management of a range of feelings and emotions and the feelings and emotions of others; (KS2)

• effective learning strategies; (KS2)

• how to sustain their health, growth and well-being and coping safely and efficiently with their environment. (KS2)

Wales – Health and Wellbeing

Statement 3 - Our decision-making impacts on the quality of our lives and the lives of others.

Scotland - Health and Wellbeing

Mental and Emotional Wellbeing

• I know that we all experience a variety of thoughts and emotions that affect how we feel and behave, and I am learning ways of managing them.

• I understand the importance of mental wellbeing and that this can be fostered and strengthened through personal coping skills and positive relationships. I know that it is not always possible to enjoy good mental health and that if this happens there is support available.

• I am learning skills and strategies which will support me in challenging times, particularly in relation to change and loss.