Mindfulness calendar: daily five minute activities
This is a two-week calendar with daily mindfulness activity suggestions. The simple, short activities encourage children to focus on what's around them to find a sense of calm.
This resource is also available in Welsh here.
These simple mindfulness activities are designed to help pupils relax physically and emotionally.
Pupils should be encouraged to do them regularly with the support of an adult, and when confident can independently practice as part of their self care plan.
Using this resource
This resource is designed for:
children aged 3 and up
use with individual children, small groups or whole classes
The activities within the calendar will take approximately five minutes and can be done at home or in school.
You can display this poster in your classroom or staff room, and use the accompany guidance for instructions on how to deliver the activities.
You can run these activities whenever you like, for example at the start of lessons, or after playtime, to help ground and relax the children.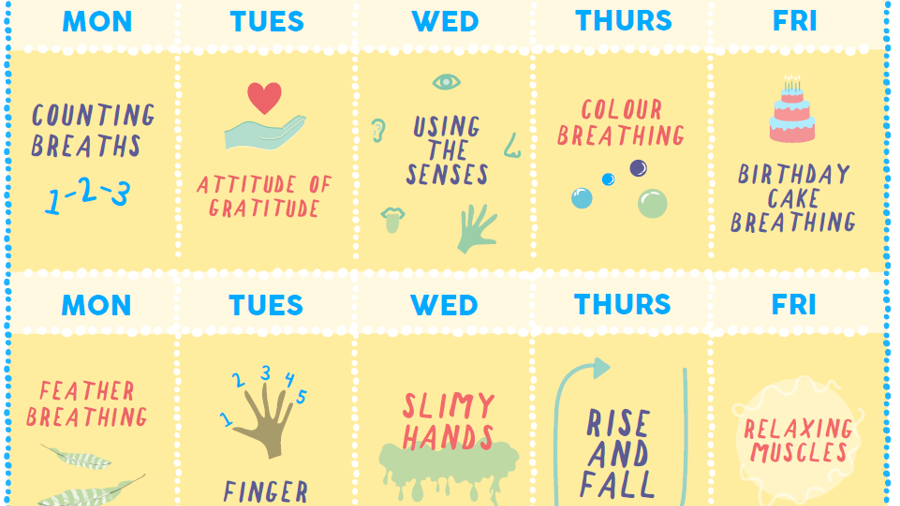 Curriculum links
England - RHSE

Mental wellbeing

Pupils should know:

• simple self-care techniques, including the importance of rest, time spent with friends and family and the benefits of hobbies and interests

Northern Ireland - Personal Development and Mutual Understanding

Personal Understanding and Health

Pupils should be enabled to explore:

• their own and others' feelings and emotions; (Foundation)

• their own and others' feelings and emotions and how their actions affect others; (KS1)

• their management of a range of feelings and emotions and the feelings and emotions of others (KS2)

Wales – Health and Wellbeing

Statement 2 - How we process and respond to our experiences affects our mental health and emotional well-being.

Scotland - Health and Wellbeing

Mental and Emotional Wellbeing

• I understand the importance of mental wellbeing and that this can be fostered and strengthened through personal coping skills.

• I know that we all experience a variety of thoughts and emotions that affect how we feel and behave, and I am learning ways of managing them.