Seven days of kindness calendar
We are encouraging primary schools to get mentally healthy by spreading a little kindness.
This resource is also available in Welsh here.
This calendar encourages pupils to do two acts of kindness each day – one to someone else and one to themselves.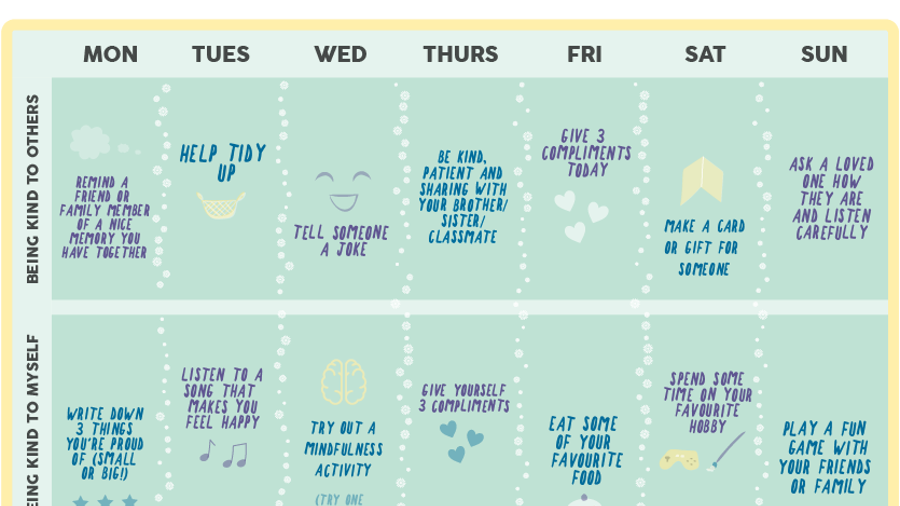 Using this resource
This resource is designed for:
children aged 4-11
use with individual children, in pairs or as a whole class
Depending on the age of the children, there are two calendars included. One has a suggested kindness activity for each day, which is best for giving to younger children, or using as an example for older children. The other calendar is blank for children to complete with their own ideas.
Curriculum links
England - RHSE

Mental wellbeing

Pupils should know:

• that mental wellbeing is a normal part of daily life

·   the benefits of physical exercise, time outdoors, community participation, voluntary and service-based activity on mental wellbeing and happiness

·   simple self-care techniques, including the importance of rest, time spent with friends and family and the benefits of hobbies and interests

Northern Ireland - Personal Development and Mutual Understanding

Personal Understanding and Health

Pupils should be enabled to explore:

• their own and others' feelings and emotions and how their actions affect others; (KS1)

• their management of a range of feelings and emotions and the feelings and emotions of others; (KS2)

Wales – Health and Wellbeing

Statement 1 - Developing physical health and well-being has lifelong benefits.

Statement 5 - Healthy relationships are fundamental to our well-being.  

Scotland - Health and Wellbeing

Mental and Emotional Wellbeing

• I know that friendship, caring, sharing, fairness, equality and love are important in building positive relationships. As I develop and value relationships, I care and show respect for myself and others.

• I am learning how to give appropriate support.